MARYLYN DINTENFASS is a leading artist of this moment. As Lilly Wei writes, her work is "lush but also astringent, with a glittered coolness and reserve that offsets its heat…a bracing example of an experiential painting for the present." Throughout her career, Dintenfass' complex chromatic and gestural imagery– at once representational and abstract– derives from an unbridled and innovative union of conventional and unconventional materials and the reinterpretation of techniques. Dintenfass' oeuvre– from millennia-old ceramic techniques and scratched runes, to sculptural installations with steel, plywood, epoxies, aluminum, fiberglass and digital technologies– authoritatively embraces and incorporates whatever is needed to serve her dynamic artistic vision.
Encountering Dintenfass' paintings such as ELDORADO LARTIGUED or DASHBOARD LIGHTS ON PARADISE NIGHT, or the massive public art installation, Parallel Park, immerses the viewer in juxtapositions and ironies that are at once apparent, transparent and misunderstood in the world around us.  Through her work, Dintenfass likes to remind us that  "things are not what they seem." A devotee of modern, everyday sensual pleasures, she knows that while exciting, they also carry an element of danger, of the forbidden and mysterious. In a previous 2008-2009 series of oil paintings and monotypes entitled GOOD AND PLENTY JUICY, Dintenfass emphasizes the duality of candy as an irresistible, exhilarating treat and addictive health threat.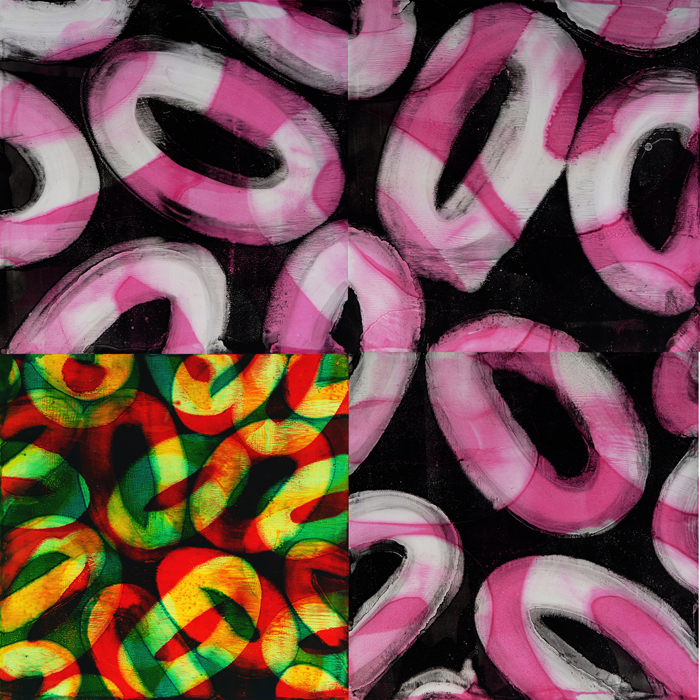 Soon, Dintenfass will debut a new series of paintings and monotypes devoted to duality, entitled DROP DEAD GORGEOUS, which explores imagery of plants that are visually arresting  but also highly poisonous. Beauty and toxicity unified are a perfect Dintenfass duality.  Another current series, PERFECT PITCH, explores the celebratory duality of the artist's relationship with music: the tactile visceral intersections that she experiences with sound and color.
Dintenfass' artworks are a synergy of enigmatic dualities formed from indivdual and psychological experiences, and which are expressed through the inventive play of gesturalism, color and layered surfaces. ____________________________________________________________________________________
Marylyn Dintenfass' work is found across the U.S. and abroad in public, corporate, and private collections such as: The Metropolitan Museum of Art, Minneapolis Institute of Arts, Mississippi Museum of Art, Cleveland Museum of Art, Detroit Institute of Art, Museum of Fine Arts, Houston, and The Smithsonian American Art Museum.
Parallel Park is Marylyn Dintenfass' 27th large-scale installation.  Among her other installations are projects for the Port Authority Bus Terminal, New York City Connecticut State Superior Courthouse, Baltimore Federal Financial Building, Maryland, Ben Gurion University, Israel, Museo Internazionale Delle Ceramische, Faenza, Italy Tajimi Middle School in Japan.
Dintenfass has twice been a MacDowell Fellow and has received an Individual Artist Grant from the New York Foundation for the Arts and two project grants from the National Endowment for the Arts. She was awarded the silver medal at the First International Exhibition, Mino, Japan, and the Ravenna Prize at the 45th Concorso Internazionale Della Ceramica D'Arte in Italy.  She has also been a visiting professor at academic institutions in Norway, Canada, Israel and Holland and for ten years was a member of the faculty at Parsons School of Design in New York City.
Marylyn Dintenfass is represented by Babcock Galleries in New York.
To view an extensive portfolio of the artist's work, please visit her website: MarylynDintenfass.com

MARYLYN DINTENFASS PARALLEL PARK is the second book devoted to her work. In 2007, Hudson Hills published a monograph entitled MARYLYN DINTENFASS PAINTINGS.
Marylyn Dintenfass Full CV – PDF