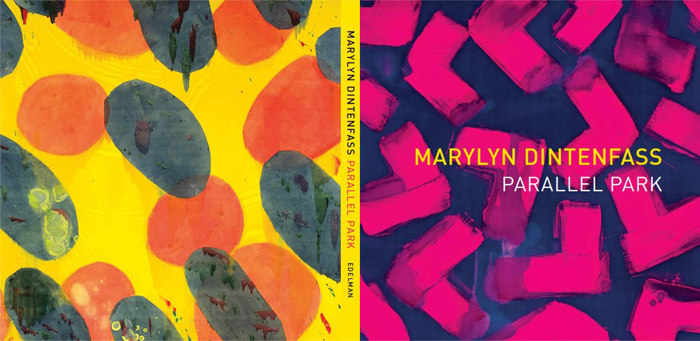 REVEALS Marylyn Dintenfass' recent series of drawings, monotypes and paintings devoted to gender-bending, society altering, culturally iconic, high-powered, sporty and sexy muscle cars that  streamed out of Detroit from the late 1950's to the mid-1970's.
DETAILS the stunning convergence of a permanent public art installation with Dintenfass's progression of changing images and shapes integrated with modern life experiences: ubiquitous automobiles, traffic patterns, tires, and the geometry of movement.
EXPLORES the creative, interdisciplinary process and collaboration of one of the largest and most transformative site-specific installations of the past decade.
AFFIRMS that fine art permanently invigorates urban landscapes and energizes the public. In constant chromatic and textural change, translucency to solidity, opacity to glowing lantern Dintenfass' Parallel Park transforms something ordinary into something truly extraordinary in downtown Fort Myers, Florida.
MARYLYN DINTENFASS PARALLEL PARK
11 x 11 inches, 140 pages, 178 illustrations / photos (including 11 black & white)
Authored by Aliza Edelman with contributions by Ron Bishop, Michele Cohen, John Driscoll, Barbara Anderson Hill and Jennifer McGregor
ISBN 13: 978-1-55595-346-1
List Price: $50.00
Our Price: $31.50

Parallel Park  was selected for the 2011 Public Art Network Year in Review at the Americans for the Arts 50th Anniversary Conference in San Diego, CA.  Jurors Gail Golden, Kendal Henry, Richard Tuner: "This year's entries signal a resurgence of the stand-alone sculpture, work that emphatically declares the independence of the artist and the artwork while acknowledging the circumstances of the site." American's for the Arts is the nations leading nonprofit organization for advancing the arts in America.